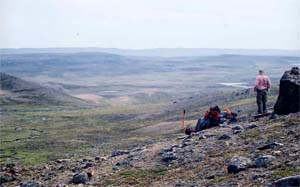 Jim Molnar and I arrived in Iqaluit on July 27, 2003. A shuttle van took us to the Frobisher Inn, but our room would not be available for about an hour. So Jim and I took a hike around town where we eventually came across an Inuk teenager snowmobiling back and forth across a large pond of open water Ė the latest sporting fad.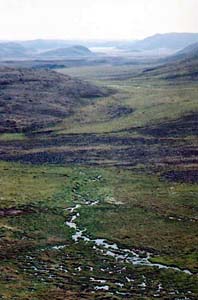 Back at the inn I discovered that my Nikon batteries were dead, so I headed out to Radio Shack to see if they had replacements. When I entered the store I noted that a white woman was dressed as if a winter storm was about to descend. I was wearing sandals and a short sleeved shirt. Reminded me of the three guys with Texan accents that booked into the inn at the same time as us; they were dressed in heavy wool sweaters and layered as if a blizzard was forecast. I couldnít imagine what they would wear in actual winter conditions.
Later, when having dinner at the Frobisher Inn, I noticed that one Inuk would enter the restaurant with a piece of art to sell, then leave after going from table to table. Then another Inuk would enter, but never two in the restaurant at a given time. Both Jim and I ended up buying sculptures: a polar bear for me (of course); and a drum dancer for Jim. The next morning we had breakfast in the same restaurant. At a nearby table three southerners described a computer system at Dillon, So I walked over and told them that we had worked for Dillon as well. No response Ė ho-hum, how small the world.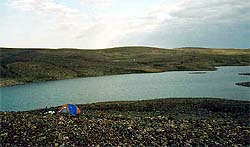 After our meal Jim and I got ready to leave on our hike, checked into the RCMP office to give them a map of our proposed route, then got a lift from Rene to the end of the Road to Nowhere, again! Rene is an elderly French Canadian who has been living up here for 15 years.
We set up our first camp at the exact location of the first camp in 2000, on a peninsula that stuck out into a long lake. I noted that in comparison to 2000, the water levels were lower, there was less snow in shaded areas and the mosquitoes were really bad. We were, after all, three weeks later in the season. Since the 2000 trip I had purchased a new tent and this trip would be a good test for it as the weather would change suddenly and in dramatic ways. The new tent is a three-season convertible, which means that the roof unzips to allow lots of air flow when itís hot and then can be zipped up tight when itís cold. Itís also designed to withstand extreme winds, which in the arctic is a necessary tent feature.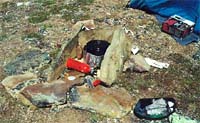 The next day we hiked to the base of the esker that leads to the waterfall on the Burton River. In 2000, we would have had to circumnavigate the large basin to get here, but because the basin was relatively dry this summer, we were able to hike straight across it. We gathered rocks to set up the tent, but as the wind was strong all the rocks we were able to collect were used to make a wind break to cook dinner. After dinner we erected the tent, using the rocks first to keep the tent from blowing away, and then to keep the erected tent in place. After all this effort, the winds died and the mosquitoes arrived. Into the tent we go.
We spent the next day exploring the area around the falls. A peregrine falcon hovered over us squawking a storm, trying to drive us away. It likely drove all of its potential food away as well. After viewing the falls we stopped to make lunch which consisted of cucumber, feta cheese and smoked oysters in pita bread. Yum! Then we descended down to the river where we found a series of 18 inuksuits, each consisting of one to several rocks stacked on top of a boulder.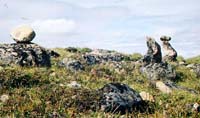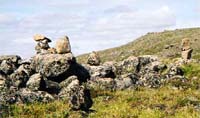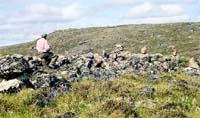 AS THE THIRD PHOTO INDICATES, INUKSHUKS DO NOT NEED ARMS AND LEGS TO LOOK LIKE A PERSON. THESE WOULD HAVE BEEN USED TO CHANNEL CARIBOU TO WHERE THE REAL HUNTERS WAITED.
For the next day and a half we hiked towards a large lake, our ultimate destination. Cresting a high hill, we came upon the lake and dumped our packs to make lunch. Then we went for a trek around the east end of the lake, exploring first a landscape reminiscent of Tibet. At the top of a pinnacle Jim discovered that his camera wasnít working. After loading new film and several more attempts, the camera mysteriously worked. Must have been because we were sitting on the only grassy spot on Baffin.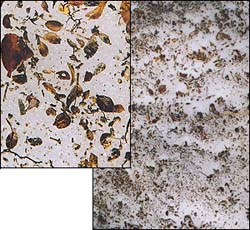 We found more inuksuits similar to the ones near the falls, and a couple of relatively modern tent rings. We also had to cross a slope covered in snow (on August 1) whose surface was spotted with wind-blown vegetation, creating a Jackson Pollock-like effect. Jim captured this splendidly on film.
By the time we got back to our packs, the weather had changed for the worse, and the last place we wanted to be was on top of this hill. So we descended to a relatively sheltered area that would still be fairly dry if there were severe rains. And as we finished a quick dinner, the storm hit. Strong winds and rain lasted all night and well through the morning. As it was cold, damp and windy, we elected to just stay put the next day.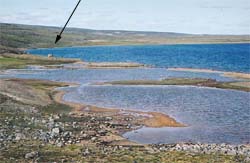 But the following day was one for hiking. We came across more inuksuits, tent rings, a modern hunting camp (indicated by the arrow in the picture), and an ancient site of remarkable stone structures. We even found part of a snowmobile skis.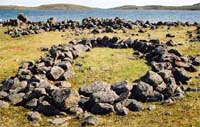 We were now heading back towards Iqaluit following a high ridge that provided a welcomed breeze but little potable water. We had even dropped our packs beside a small larva infested pond to set up camp for the night when a larger, clearer pond was spotted further on. Backpacks were on again for a better site. The next day we had to decide whether to stay high and enjoy a relatively mosquito free breeze, or go low and have available water.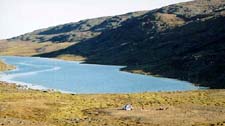 I opted for going low and was soon joined by Jim. The easiest descent was still steep but manageable, winding around boulders the size of houses that, incredibly, did not seem out of place (why would they?!).
For the next two days we attempted to escape the heat and then the cold, and then the heat again. Reaching Iqaluit, we rested at the edge of town beside a blasting area where bedrock was being removed with explosives to make room for more housing. Progress was stretching the boundaries of the town while we were here to breathe the landís boundlessness. We reported in to the RCMP office to let them know of our safe return, then off to the inn for relished showers.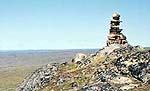 The next couple of days were spent trying to discover something of interest in Nunavutís capital. The tourism centre was under renovation, the legislature building was closed, the museum was sadly neglected. We couldnít find the relocated Arctic College arts facility, but kids on bikes offered to sell us miniature carved inuksuits. It was time to go home