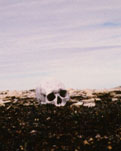 The Schwatka site (NgLj-3) was rediscovered in 1993. The site represents the location where some of the Franklin crew had perished after leaving the ships in 1848. This is likely the location of the lifeboat and human remains which Lieutenant Schwatka had found in 1879. In 1994 the surface distribution of artifacts and human remains were mapped. In 1996 the displacement of human bones from two years ago was noted and a recommendation was made to the Prince of Wales Northern Heritage Centre that the human bones be gathered and placed in a cairn. On July 19, 1997, two human crania and a femur were collected, placed in a metal container and a stone cairn was built over the container. A plaque provided by Prince of Wales Northern Heritage Centre was placed on the cairn.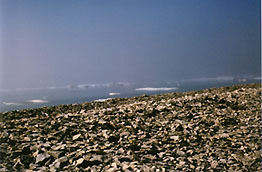 The west coast of Graham Gore Peninsula on King William Island was surveyed between roughly Little Point to the north and Cape Hodgson to the south. The purpose of this survey was to discover Franklin crew related sites as well as Inuit sites with Franklin artifacts. The objective was to determine whether or not the Franklin crews travelled along the western coast of King William Island after having left the ships on their trek towards Back's River.
A total of thirty sites were discovered, ranging in age from Thule to the latter half of the twentieth century. The majority of sites found are prehistoric and consist of from one to ten tent rings, often associated with caches. Five of the sites are twentieth century Inuit hunting campsites. Two sites are multi-component having both prehistoric tent rings and either a modern cache or cairn.
Only one site, located near Cape Hodgson, appears to date to the Franklin period and is European. This site consists of a large tent ring unusual in the choice of wall rocks and the positioning of six exterior rock piles surrounding this ring. The rock piles are presumed to have held down ropes which would have pulled out the sides of the tent - a European feature. However, no artifacts were discovered that could have more precisely identified the ring's occupants. The modern cairn, mentioned above, was also located near Cape Hodgson and is likely European in origin. This cairn had been partially dismantled.
The European style tent ring may have a Franklin crew origin, but it could represent either a survey crew prior to abandoning the ships, or it may be a post-abandoning camp. None of the discovered Inuit sites revealed any Franklin artifacts which suggests that either the Franklin crews did not follow the western coast of the Graham Gore Peninsula once they abandoned the ships, or at least did not leave materials in their wake which the Inuit would have found useful.
Daily web page updates were maintained.