Left Toronto from Pearson International airport on July 8 with Tanis Day, my travelling companion on this trip. Our destination was Iqaluit via Ottawa. Because of a log jam of planes taxying to take-off, we barely made our connection in Ottawa. Our luggage didn't make it however. It would arrive in Iqaluit on a later flight.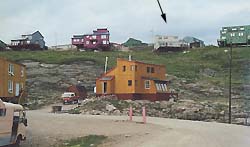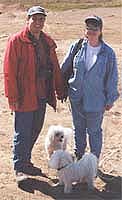 We were met at the Iqaluit airport by Paul Smith, who with his wife Tanya ran the Crazy Caribou B & B (indicated by arrow in picture) that had a terrific view (below) of Frobisher Bay. As it turned out, Tanya ran the Dillon Consulting office in town, and I had been working for Dillon for the past five years.
Our original plans for this trip were to hire a boat to transport us to the other side of Frobisher Bay, then hike into the mountainous Meta Incognita and then around the bay back to Iqaluit.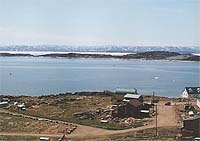 But the bay was still frozen so taking a boat across the bay was a no-go. Even the tanker ships were waiting patiently, blocked by the ice. We investigated hiring a plane but that option was too costly for our wallets. So we switched plans and decided to hike in the opposite direction, north of Iqaluit. We went into the business section of town to buy fuel and some more supplies. We wouldn't starve on this trek!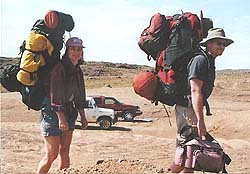 The next day Paul and Tanya drove us out of town along the only (then) named road in Iqaluit: the Road to Nowhere.
At a sandy borrow pit we began our hike, down over a few boulder strewn streams, then over a high rocky ridge. We then came to a long narrow lake that we followed and at the far end set up camp. We were in no hurry.
A hike without packs led us to a higher ridge overlooking a green valley with a river (Burton) some 800 feet below us in elevation.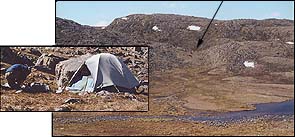 Caribou were crossing the river, appearing as moving dots. On our way back to camp we encountered two caribou that were also heading towards our camp. That could have been a mistake on their part considering that we discovered an active wolf den close by. Site of first camp (inset) is marked with arrow.
The next day we hiked back up this high ridge (now with packs) and then started to descend a large, eroded gorge with a stream running down it. Suddenly the sky got quite dark, we pitched the tent, threw everything inside and the rain and lightning started. We were in a gorge, with rock cliffs on either side, and the thunder boomed right on top of us.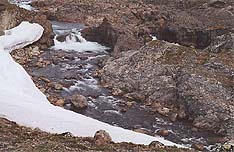 We learned later that this was the first thunder heard in the area in 26 years. Then a rainbow appeared near to our quickly-set-up camp.
We had this huge valley with rapids, a waterfall and hills beyond to explore. (The waterfall seen from a distance in this photo is about as high as a two-storey house.)
Then Tanis became sick with a flu-like illness. I would go out hiking alone trying to find a route to the waterfall. When Tanis started feeling stronger she would start hiking with me but would have to turn back. Eventually she was able to accompany me to the waterfall where on the back of a high esker I had found a small tent ring a few days before.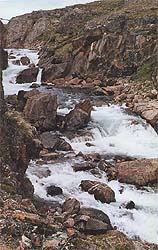 On the next day we hiked down river to an incredible series of rapids.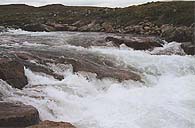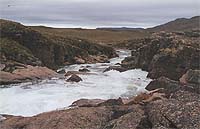 On the way back to camp from the rapids, we climbed a portion of a steep range of high hills. About half way up,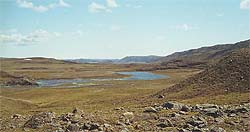 there was a fairly wide terrace, which meant that at some time in the past, this terrace was under water and at the edge of a very large lake that would have covered the expanse of the valley now below us. One of the pleasures of hiking in the arctic is seeing not just nature in the present, but also witnessing how it was shaped in the past.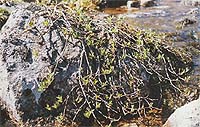 On one of our day hikes we were crossing a broad valley that contained numerous low water saturated areas where vegetation was more prevalent. The vegetation seen in this photo is a willow tree, possibly hundreds of years old.
We had climbed a rock shelf that was in the midst of these low wet areas and discovered a rock hearth that appeared ancient, based on the lichen covering the rocks. While we rested here, four caribou grazed below us, circling our rock as they went. Occassionally they would scent us and move to another area, but always stayed close to where we could see them, as they couldn't see us.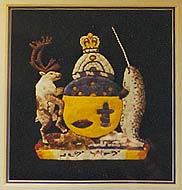 COAT OF ARMS, BEAUTIFULLY CRAFTED OF
HAND STITCHED AND APPLIQUÉD FABRICS.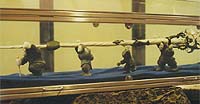 MACE MADE FROM NARWHAL TUSK.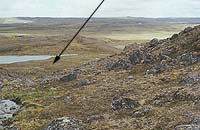 The most memorable event occurred one evening when we emerged from the tent to brush our teeth and found ourselves staring at a wolf, at the most, only 15 metres away from us. Both of us instinctively dove back into the tent, not out of fear, but to retrieve our cameras. At the same time the wolf bounded away like a ghost being carried by the wind. (Arrow indicates distance it travelled in mere moments.) We stood watching in amazement at the ground the wolf covered. The next day we hiked down to a sandy terrace to follow her tracks.

Back in Iqaluit we did the tourist thing: visited the museums, art galleries and studios, cafes and had a tour of the legislative chamber.

Paul and Tanya took us on a tour of some of the sites outside of town. They are considering selling their B & B and starting a new one somewhere in southern Canada even though Paul grew up in Iqaluit. I wish them all the best in their adventure.