Book Signings

Once every three months or so, I spend a day at one of the Chapters stores. I have a display table and my big banner just inside the door. I talk to customers as they enter and tell them about Why Men Made God. Not all customers are comfortable seeing a book with this sort of title, and the events can become 'fraught'. It's a great time to practise a bit of 'street epistemology'.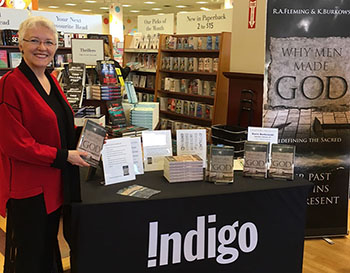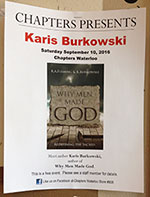 The Chapters stores advertise these 'author events' with posters in the entrance area just inside/between the doors.

Whenever you visit a Chapters/Indigo store, pause and take a glance. You might have an opportunity to meet an interesting author.




Independent Book Stores

Like all authors, I urge you to support your local independent book stores. Why Men Made God is currently available at the following stores:



Book Clubs

Book club visits are fun! They generally happen in someone's home and tend to involve wine and treats. Since everyone has read the book, the questions are more specific and the discussion becomes more philosophical. Book club members also tend to be intrigued about the motivation and the process behind writing the book.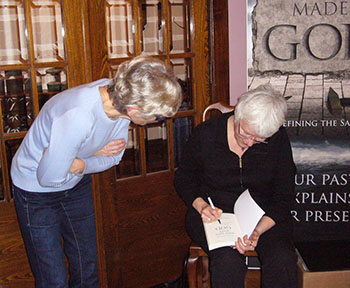 Trunk Sales

And, of course, I always have a box of books in the trunk of my car. You never know when an opportunity might arise!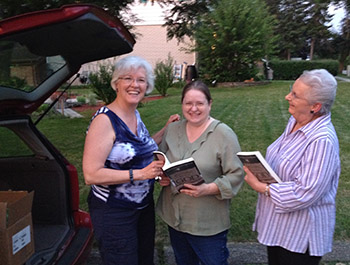 Book Talks

Every group is different, so every talk needs to be tailored for the group. The Q & A time after the talk is always interesting, sometimes challenging.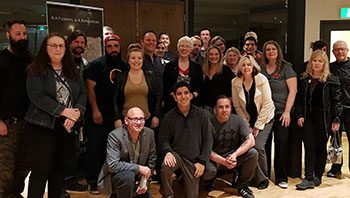 Hamilton Humanists, 2018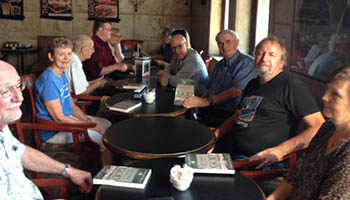 Society of Freethinkers, 2015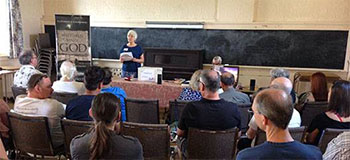 Brantford Atheists, 2016

Festivals

These are annually recurring "tent" events, such as the KW Multi-Cultural Festival and the Non-Violence Festival. As the VP of SOFREE, my object is to inform people about being "Good Without God". A surprising number of visitors have never met an atheist/humanist before, so conversations can be enlightening. Promoting Why Men Made God is peripheral at such events.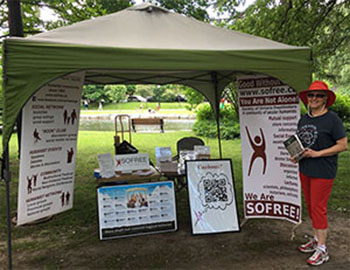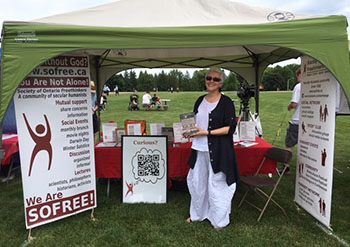 At the Guelph Multi-Cultural Festival (June 9-10, 2018) many visitors were intrigued by our message. Over 30 people left their contact information and we subesquently organized a Humanist brunch in Guelph so they could meet one another. Those meetings are ongoing! Find out more on the SOFREE website.