Atheist Footprints in the Sand

While planning a holiday to Berlin, I searched for things to visit. One of the searches led to Atheist Shoes! That sounded intriguing.

One of the curious things about Berlin is that the numbers assigned to places on one side of the street have absolutely no correlation to the numbers assigned to places on the other side!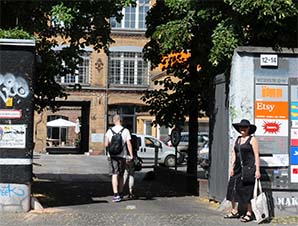 After searching up and down the street for some time, I finally spotted the two tiny numbers 12 - 14, which you can see above my head, at the entrance to a parking lot, at the far end of which was an entrance to a courtyard in which you can see a white tent top/sun shade. That was the courtyard where the store was located!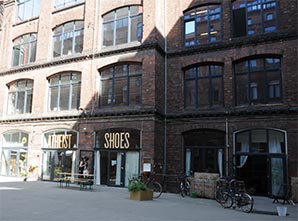 The sign bears a cobbler's shoe form and a black hole. Apparently a Christian friend once told the owners they (being atheists) had a "god-shaped hole..." and the rest is history.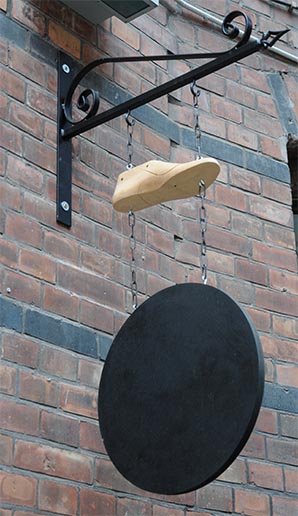 Small World!

I met David, Nana and Tobin, and was surprised to learn that Tobin used to live in Guelph, a town about 25 minutes down the highway from my home!



The place had a very casual / hands-on feel to it. While Tobin handled customers Nana was designing baby shoes with "I believe in Mummy" on the bottom, and David was packing suitcases for the upcoming trip to Chelsea Market in New York (which I have since learned was a big success).



My Höllenfeuer Red (Hellfire Red) shoes are beautiful, well-made, soft and comfortable! They have carved soles. This creates footprints that say "Ich bin Atheist"!



I couldn't wait to leave "footprints in the sand".